Cooking in the Cava: Today we have prepared a braised Bluefin Tuna Cheek on a bed of Parmentier!
You have the instructions below, but you can also see them on

vídeo! (English subs)
Preparation time: 100 minutes
Ingredients:
Bluefin tuna cheek
Garlic and onion
Carrot and Pepper
Milk cream
Tomatoes
Potato
Cream and Emmental Cheese
Butter
Olive oil
Black pepper and salt
and Cava!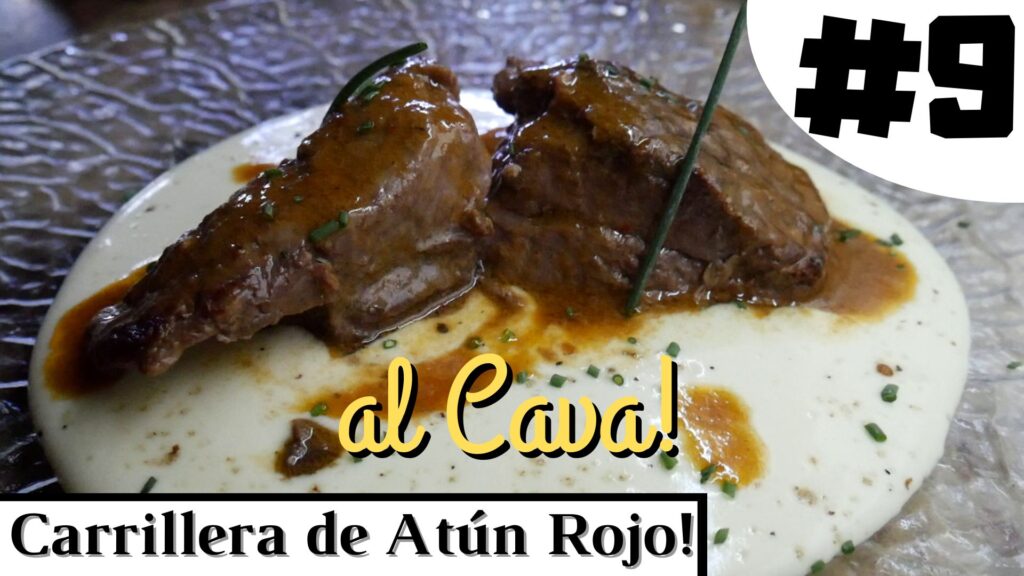 1) Cut all the vegetables into small pieces and the cheeks into medium pieces. Next, cook the potatoes in water and salt for 30 minutes over medium heat.
2) Mark the cheeks in a pot with oil over high heat and remove them. In the same pot over high heat, cook the garlic, onion, and carrot until they are slightly golden.
3) At this point we add the pepper and a glass of Cava. When evaporating add the tomato with a glass of water and lower the heat, we will cook everything for about 90 minutes.
4) When the 30 minutes of the potatoes have passed, we will take the turbine and make the Parmentier, in order we will add: the milk cream (half), the potato, the cheeses, the butter, and the rest of the milk. Whirl until we have the desired texture, add water if necessary, and at the end add salt and pepper.
5) After 90 minutes pass the vegetables through the chinois and put the juice in a pot. Here we will put the cheeks back and cook over medium heat for about 20 minutes.
6) Halfway through cooking (10 min) add a thread of honey above the cheeks and cover again.
7) Place the Parmentier on a plate at the bottom and above the cheeks with the sauce on top.
It's ready to serve, have a good meal!
We hope you liked the recipe and that you are encouraged to try making it and send us pictures!
Health and Cava!
Cook: Pere!         
Guifré – 10/08/2022