Cooking in the Cava: Today we have prepared an almond calamari and Cava!
We leave you the recipe instructions below, although you can also see it in

video!
Cooking time: 35 minutes
Ingredients:
Calamari


Onion

Garlic

Eggs

Toasted almonds

Honey

Chinese spicy pepper (or another pepper)

Black pepper

Salt

and Cava!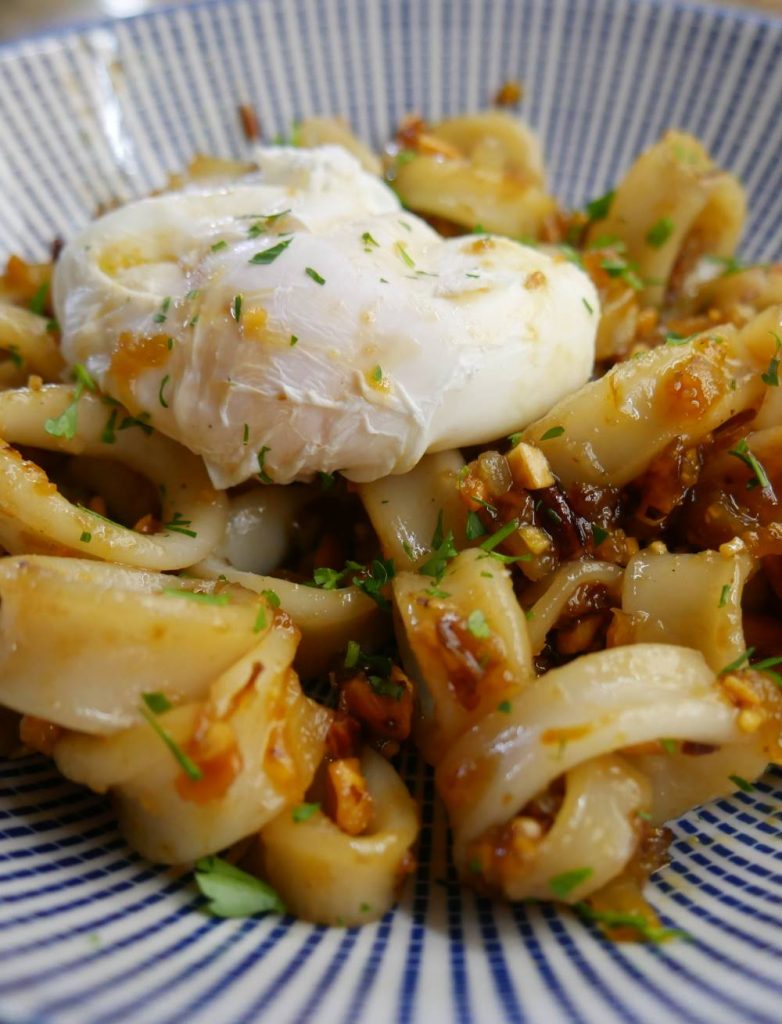 1) Chop the garlic and sauté it in a pan with oil, cut the onion and add it to the garlic and sauté for 15-20 minutes.
2) Clean the squid, make rings and dry it well with absorbent paper. Then mark it on a high heat pan without oil and without moving it.
3) Chop the almonds in a mortar with salt. Once golden add the onion and a spoonful of honey.
4) Once we the squid marked add a glass of cava and deglaze the pan, stir, cover and leave on medium heat for about 20 minutes.
5) Once the squid is ready we add the mix in the pan and the spicy you want (In our case Chiu Chow, a Chinese pepper), stir well and lower the heat.
6) In a pot heat water to a boil, add vinegar and salt, stir the water with a spoon and pour the egg in the middle where it will cook for 2-3 minutes. Once done remove the egg and dry it in absorbent paper.
7) Now you can plate! Put the squid on a plate leaving a hole in the middle, there you will put the poached egg.
Bon Appetite 🙂
We hope you liked the recipe of the almond squid and Cava, if you dare to do it you will surprise everyone!
Helath and Cava!
Cook: Pere!         
Guifré – 27/02/2020