Cooking in the Cava: Today we prepare a Monkfish Fricandó with Cava, a twist of a very traditional dish of this land! Health and Cava!
We leave the instructions of the recipe below, but you can also see it in video!
Cooking time: 50 minutes
Ingredients:
Monkfish Loin

Bread

Parsley

Mushrooms mix

Sofrito

"Champiñones"

Beef stock

Toasted Hazelnuts

Brandy

Black pepper

Salt

Olive Oil

And … Cava!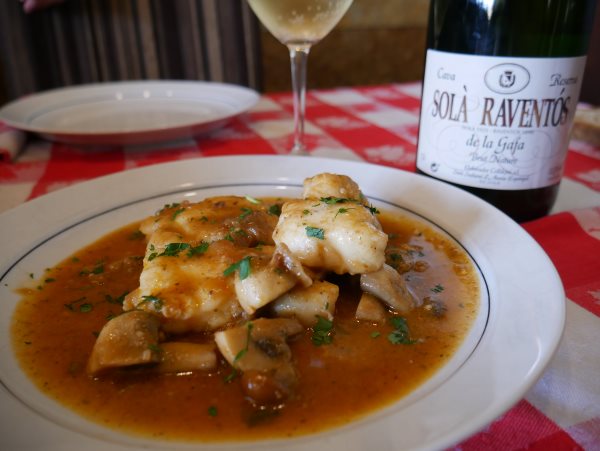 1) Fry the toasted Hazelnuts and the Bread lightly in a pot with oil. Meanwhile we begin to cut the Monkfish with a thickness of a finger or so and then we flatten it and salt it.
2) Remove the Hazelnuts and Bread from the pot and put them in a mortar together with a little Parsley that we have passed briefly through the pot. On the other hand, we will flour the Monkfish with rice flour.
3) We will keep going in the mortar until there is a homogeneous and fine paste. Next we will start to briefly mark the Monkfish in a Pot with Oil.
4) Remove the Monkfish once marked and then add the "Champiñones" and the Assortment of Mushrooms. After a few minutes we add the Sofrito, the Brandy and the Cava.
5) Once the alcohol is reduced, add the preheated Beef stock. And then add the paste from the mortar and let cook about 10 minutes.
6) We add the Monkfish to the Pot and let it cook for 5 more minutes.
7) It is ready to serve! On the plate we can put a little parsley to decorate.
We hope you liked the recipe, with this fricandó you will surprise for sure! Although the most traditional thing is to make fricandó with meat try to do it with Monkfish and you will see that you love it.
Health and Cava!
Cook: Pere!         
Guifré – 30/05/2019