Here in this post I will try help you have the best experience when discovering the amazing world of Cava during your vacations, I know I'm not the first one trying to do so but this will be my tips and recommendations from a local, winemaker and Cava lover.
Did you know that the biggest wine region in Catalonia is only 40 minutes away from Barcelona ? And did you know that you don't need a car to visit it? Scroll down and I'll tell you how to enjoy your visit to the max!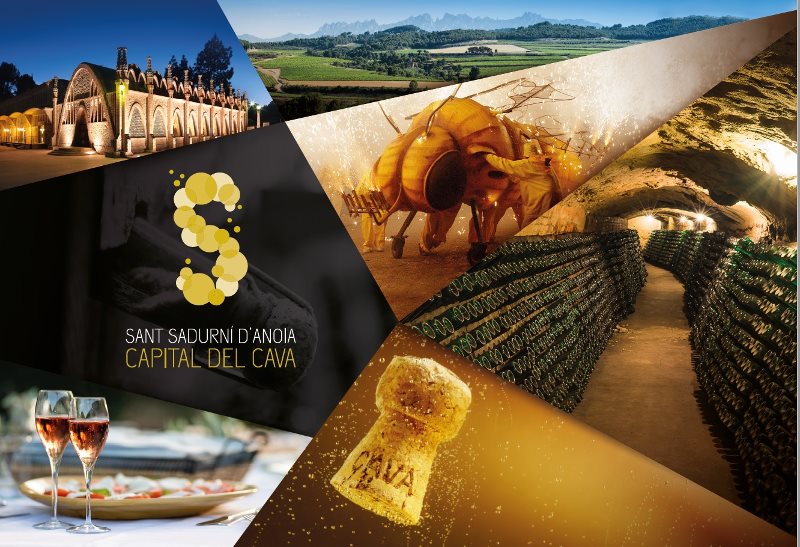 I always feel that to get to know the true culture of somewhere I travel to I have to go right to it's origin, where it all started to really get their esssence and then get to mesh with the locals there. 
That's why I can't recommend any other place to discover Cava than to go to Sant Sadurni d'Anoia, we are around 80 wineries all concentrated in a tiny town, from the biggest productions in the world to 2 man operations.
Decide what you want to visit
Although improvising is sometimes a great way of creating magical travelling memories wineries sometimes get daily visits and might not be available for tastings or tours if you go there unanounced. So booking a tour or tasting in advance is my recommendation… but Where?
That's really up to your taste, do you want to taste and see the traditional Cava that you get in your country from the big producers? do you want to discover some small wineries that have little representation internationally? Do you want a mix from giant to medium to tiny wineries to see what's all about? Or you just want to try the finest Cava around? I can't answer this questions for you but I really think that contrast makes for great experiences. 
Another great visit is Xocolates Simón Coll, it's one of the most known chocolate makers in Catalonia and I think it makes for a great visit, also in the center of town. Cava + Chocolate makes for a great combo.
We have great cousine in Sant Sadurní d'Anoia, get lunch in one of our local restaurants: Restaurant Ticus, La Cava d'en Sergi, Cal Blay Vinticinc or Restaurant la Perla would be my recommended spots. Book in advance because they are usually full of locals and quite small.
Leave some time off to walk around town and if you get a bit outside of town you will see that it's full of vineyards in every direction.
Finally if you think you need more than one day to visit more Cavas you can also look for accomodation in town, there are a couple of hostels. (Hostal Sant Sadurní and Fonda Neus)
Sounds great but.. How to get there?
The best way to go to Sant Sadurni d'Anoia is by Train. Why? You will be drinking, it's the fastest, safest and cheapest of all the options (3,5€ each way). No need to punish a designated driver in your group!
Follow my instructions or get directions from Maps
1) Head to one of this train stations in Barcelona (Check which one is closest to you):
-Estació de Sants (Directions)
-Estació de Plaça Catalunya (Directions)
-Estació de Arc de Triomf (Directions)
2) Take the R4 line with direction to Sant Vicenç de Calders or Vilafranca del Penedès
Get on the train and in 40 minutes aproximately you have to get out at the Sant Sadurni d'Anoia station.
3) Start walking to the bridge that gets you into the world's capital of Cava: Sant Sadurní d'Anoia
4)Once there get to your Cava tasting/tour appointment most cavas are walking distance, use the map on top or Maps to go from one to another.
*An alternative is getting a Cab from Barcelona but that will go for around  70€ each way.
Trains go back to Barcelona every 30 minutes during the week and every hour on weekends from the train station (Directions).
The last one during the week is at 22:30 and on weekends at 21:30. (Try to go with time because after that you will have to get a cab if you want to go back to Barcelona)
Also please do check the (Timetables) to make sure.
Health and Cava!
Your cavamaker friend, Guifré
25/06/2019